Dennis Bergkamp with Holland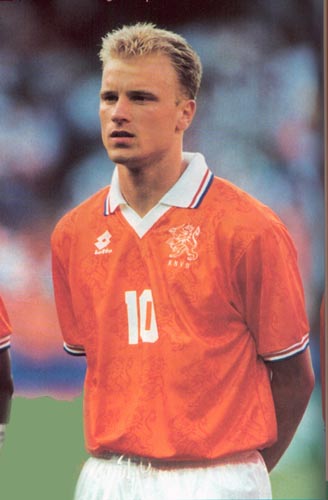 ---
Info

His success at the club earned him his first cap. Bergkamp made his first international appearance against Italy in September, 90, and two months later he scored his first goal for his country againt Greece. In 1992, Holland went to Sweden as a favorite to win the European Championship. Bergkamp played along side with his superstar teammates such as Gullit, van Basten, Rijkaard, and Koeman. Bergkamp played well and he scored 3 goals before Holland lost to Denmark in penalty shootout.
Bergkamp played well for Holland, and he helped the team to qualify for World Cup 94. Holland had many problems before going to America, Van Basten could not compete because of injury, Gullit left the team after an dispute with the coach, the players did not get along..., but the Dutch managed to reach the quarter-finals. They lost 3-2 to Brazil. Dennis Bergkamp scored 3 goals in 5 World Cup matches.
Bergkamp's fear of flying was also triggered in the US. A jornalist repored a false bomb threat on the plane which the Ducth team was on, and caused a panic. This incident reminded Bergkamp of an plane crash which killed many Surinamese-Dutch players when they flied to Surinam. After that Bergkamp decided not to fly again.
Dennis Bergkamp became a big star in France. At the beginning of the tournament he had a knee injury, but he got over it and came very good shape. He scored three important goals against South Korea, Yuogoslavia and Argentina. Sharp and clever Bergkamp showed, that the success in Arsenal isn't luck. Because in France there wasn't very long distances between the game places, he didn't even suffer his fear of flying. Now there was no doubt that his a world class goalscorer.
---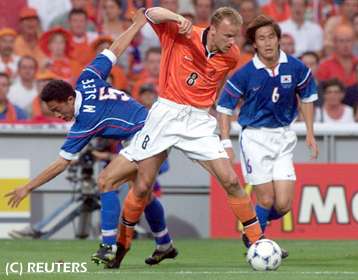 ---
More Bergkamp with Holland Pictures
Bac to Main Page